Have A Blog? Write Content? Here Are 10 Ways To Convert Readers Into Leads
Many of us in the network marketing industry write content or have blogs.
But how many are getting results from their content?
Many do not see good results, and after learning more on converting readers into leads, I see why.
If you are not using these tips in this business announcement, you are missing out on serious lead generation.
#1: The Content's Message
One of the biggest issues, is the content's subject and meaning.
If your content does not give the reader a benefit or value, it will be impossible to convert anyone into a lead.
So be sure to create content that attracts people, and is useful to the one reading.
Do not write content based on what you want people to do, but instead, write content that people will find useful.
This is the first step to getting leads, and if you do not get readers, the other tips are useless.
#2: Include Videos
I get there isn't a video in this article, but some of mine do.
Yet, every blog post I have on my official website, has a video with it's content.
This is very helpful at generating more leads as more people will watch the video over read the content.
It also helps the Youtube channel, which can directly bring in more leads through that platform.
Include videos, and you open your chances to getting more sales and leads through a larger audience of people.
#3: Anchor Text
When you mention in your content, something you would want promoted, be sure to include the link as the wording in the content.
An example would be referring someone to a lead program you are an affiliate with.
You just turn the sentence or part of it, into a link. These links are the highest clicked links in many blogs.
EXAMPLE: Need more leads? Get genealogy leads for life, with no recurring costs whatsoever.
#4: The P.S Line
If you finish this business announcement, you'll see I ad a P.S line to the bottom of it.
The P.S line needs to be something you are promoting that fits with the audience that is reading the content.
It can be anything you need it to be, and the more congruent with the content, the more likely it will generate the highest amount of leads.
Start including these in your content, start seeing more leads on a regular basis.
#5: Pop-Up Ads
Having a pop-up can be the highest lead converting tool you'll have.
There are many options of when you have it pop-up.
I chose to have it pop-up on my website when a person goes to leave the page, or scrolls to the bottom.
I believe these are the best places, but I am not saying they are. I still have more time to decide on where the best times or places to include a pop-up will be.
But, I do know that my pop-ups, along with many other bloggers, is the #1 way to get leads from new visitors.
#6: Call To Actions
Using a call to action in your content will work.
Place them in your videos too!
If you do not have a link to tell them to click, then have them send you an email.
You can always find a call to action to get those who are interested in your content, to reach out to you.
When people reach out through content, it usually leads to sales.
#7: Related Articles
This strategy may not generate leads directly, but will increase your lead generation.
The reason is, because the internet is huge.
When a person is reading your content, it sometimes is because they have only a slight interest in the title they seen.
When they see the related articles, it increases the chances they will see a post you've written that really feeds their needs.
When this happens, it then generates leads. Getting them to find an article they otherwise would not have.
#8: The Title
The title needs to really get the attention of the reader, or nothing else matters.
If you have written value into your content, people will read it.
But how will they know if your title doesn't tell them.
The title needs to really address what they will get if they read the content.
Usually, tell them the benefit of what they will get from reading the content you published.
Miss this, and they may not even know the content you wrote was extremely valuable.
#9 What Would Seth Goodin Do
May not make sense to many, but this is the name of a plugin for Wordpress users.
This puts a message based on cookies that can generate you new leads, or lead to any call to action you wish.
It is a message that can appear before the content, or after, and based on your reader's history on your blog, will change it's message.
An example would be a first time visitor gets a message to subscribe to a newsletter. A recurring visitor may see a message of a time offer they got when they subscribed.
Very powerful plugin.
#10: Banners
BY adding banners on your content, can be a great way to get leads and sales.
I include several banners on the right side of my blog, and I get a lot of sales on my affiliate programs.
If your banners are targeted to who is reading the content, you will get good click rates.
Don't let this oldest and most simplest trick, get dismissed because it still works.
Did This Help?
Did you get some value from today's business announcement?
If so, be sure to leave me a comment below, and let me know.
Also, be sure to send me over a connection request, so we can continue sharing value with one another.
P.S Want me to build a downline for you? See how well blogs work at generating leads by having me place my leads and sales under you, and you too can benefit from them.
---
No comments yet
---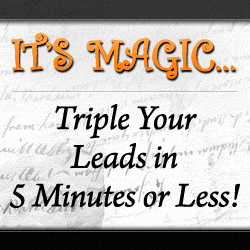 ---
Support
Privacy Policy
Affiliate Terms
Terms of Use
Testimonials