Business Development Seminars!
The breathtaking Old Town and delicious cuisine are two of the many reasons why you should visit Lyon. On September 15, the French city will gain one more reason - Business Development Seminars!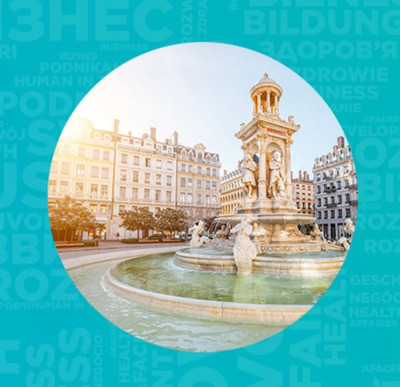 Events from the BDS series are one-day seminars on business, health and self-development. This is where you can take the first (but not only!) Step on the road leading straight to personal and business success.
Business Development Seminars are:
- all-day seminar during which you will meet experts in the fields of personal development, authentic sales, business and health;
- an event during which you'll find that you can also be truly successful;
- lectures, during which you will gain invaluable knowledge that you can practically use in almost every area of ​​your life;
- moments full of inspiration, deepening knowledge, developing skills and making new contacts;
- the first step on your path to success.
Business, motivation, innovation, health - these four slogans are inseparably associated with this event. Therefore, if you want to open up to new solutions and possibilities, you cannot miss this event!
To make every day special ...
Read more: click here
#personaldevelopment #softmarketing #dietarysupplements #healthylifestyles #healthclub
-----------------------------------------------------------------------------------------------------
Our Mission
The improvement of life standard and style of every person we meet.
This strictly defined goal is pursued by numerous entities cooperating with DuoLife, including: a group of coaches developing managerial competencies of our business partners Personal Excellence Network, a great project created in order to save people's health and life- the WORLD HEALTHY LIVING FOUNDATION, and the Scientific Council responsible for the quality and effectiveness of our products.
Our Vision
From Poland to the world
DuoLife is a guarantee of quality. Our vision from the very beginning was to enter international markets. Today DuoLife Club Members have already been working in 30 countries all over the world.
Not only do we aspire to establish leadership position, but first of all, to contribute to the improvement of the style and standard of living and wellbeing of millions of people all over the world.
Day by day there are more and more of us, and everything according to the principle - FROM POLAND TO THE WORLD!
Our values
Our values constitute the foundation
The greatest value in DuoLife are the PEOPLE who cooperate with us. Direct marketing, based on the relations with other people, gives us the advantage and allows us to reach the people who have not seen any prospects in such a business so far.
DuoLife activity is based on such values as:
Honesty – it regards us and the people we cooperate with
Reliability – 100% engagement, fulfilling our duties conscientiously
Partnership – cooperation, trust and support
Relations – the foundation and key element of our existence and development
Personal development – thanks to it, we are getting better and better everyday
Integration – joint training sessions, meetings, trips and events.
---
---
No comments yet
---
---
Support
Privacy Policy
Affiliate Terms
Terms of Use
Testimonials