The Perfect Business... The Perfect Product... Do they exist?
The Perfect Business... The Perfect Product... Do they exist?
Well of course you already know the answer to that question. Of course NOT!
But I believe we might be able to get pretty close to it with what you will be reading about shortly.
Have you ever heard of TIM SEBERT and RANDY THOMAS?
If you haven't, these two gentlemen are world-renowned 7-figure income earners in the network marketing/home-based business industry. Together they built a downline/team of over 1.1 million distributors as well as helped hundreds of families earn 5, 6, and 7 figure incomes.
Well, they've done it again!
The dynamic duo came up with something called "Parallel Marketing." Ever heard of it? What Parallel Marketing is, it's when you offer someone something of value that they need and want which helps them build their business. This brands you in their eyes as someone they can trust and therefore establishing a bond of friendship between you and them.
I believe it's a better way of marketing to people than the old way of throwing out your offer (ad) and possibly join my wonderful life-changing business. All the prospects sees is you offering them something that's going to better you, not them. Which is why if you're a network marketer you should be promoting your business to other network marketers.
Enter "Parallel Marketing" and Gorilla Marketing Pro.
You see, it makes so much sense to promote something that fellow network marketers want and need in helping THEM build THEIR business. You sorta "kill two birds with one stone" in that you get to promote your business by helping others build theirs...sweet!

Plus there's a monetization factor that goes along with this marketing system where when you become a member you are allowed access to a back office that has 4-5 other means of creating income streams, simply by promoting Gorilla Marketing Pro to others.

So if the idea of adding other streams of income to your life sound appealing, then check out the most amazing, innovative, never-been-done-before method of generating a steady stream of monthly residual income online that I personally have ever seen. All while building your primary business.
Hide your checkbook and put away your credit card, because this magnificent system is FREE but for a limited time only!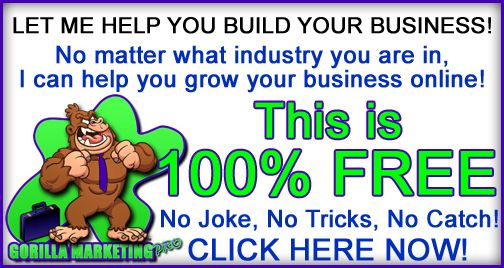 ---
---
Member Ad
Lets earn together
Create passive income now! $2047 mthly No monthly column to meet, No selling, recruit if you want to.
Member Ad
Your Dream Side Hustle
Once you see this, you can't unsee it. This company is breaking the mold when it comes to Network marketing.
---
Support
Privacy Policy
Affiliate Terms
Terms of Use
Testimonials