Networking Partnership
Networking Partnership
Oriented Partners is a business Networking Partnership. It is a pragmatic orchestration and evaluation of natural and human potentials, by creating investment cultures of developed economies across the globe, with higher economic propensity and high efficiency of mental prowess and preparedness, systematic overhauling and analytical precision for profitability as we protect the ethics and intellectual properties. The high efficiency of an economy can be attained when there is capital and human resources optimization to explore their full potentials within the jurisdiction of economic policies of an economy having a public trust which comes with great responsibilities in sound ethic practices and higher standard in corporate managements.
Vision

Trading the talents, creativity, ideals, business project of individual in partnership as portfolio investments through networking in consortium projects in all sectors of many economies across the globe.
Mission

Building business networking with base of realty and finance in commerce and industries of many economies across the globe with diversified portfolio investments into subsidiaries and franchises in consortium projects.
Goal

Creating over 100,000 portfolio investments in partnership across the globe with capital base of over US $2 trillion investments with over 2 million oriented partners and over 10 million work force and creating products with customer base of over 2.5 billion people.

Values

Partnership
Resourcefulness
Transparency
Accountability
Potentiality
Mandate

Oriented Partners will focus on investment opportunities in creating projects in all economic sectors of many economies to meet specific strategic goals.

These strategic goals include :

(1) The delivery of new services.

(2) Enhancement of existing products.

(3) Entry or Expansion into a key strategic markets.

(4) Completion of strategic Partnerships.

(5) Critical Research and Developments.
CASH BACK ON PURCHASE

For Every Threshold Products
worth of $100 as a SLOT you get back
$10 Cash Back through
Customer-Cooperative-Discounts
to Maximum of
$1,500
How It Works.

You buy Products daily from other markets with probably a discount of 65% on $100 Products which is $65.But with us,it creates a share worth $1 million and above for Products of $100 you buy from our Affiliate as a customer without any marketing effort as an Affiliate does.

When you buy Products worth $100,you have 1 SLOT.

With target of 20,000,000,000 SLOTS Products worth $100 each,in a year,you will get $1,500 for every $100 Products you Purchase.
Customer-Cooperative-Discount

Level Downlines Commission Withdraw Passover
1st 3 $30 No $30
2nd 3 $90 No $90
3rd 3 $270 No $270
4th 3 $810 $390 $420-Management Fund
Management Fund

1.At the completion of each cycle,$420 is retained as Management Fund . This is the fund that individual customer that has completed the previous cycle will collect $30 to go to the next cycle until each customer get 1,500% Cash Back on Purchase.

2.This is the fund that goes to adminitrative team as profit also for maintenance,growth of the network and advertisements.

Partnership Fund

Aside Products that are available for Customers to buy,every Customer can choose to be part of our growth as an Investment Partner with $500 in any of our portfolio Investments Projects in all economic sectors in any part of the globe.

The essence of this money is to create an off-shore and on-shore group of investments with diversification into:

(1) Publishing

(2) Entertainment

(3)Real Estate

(4) Agriculture

(5) Media

(6) Aviation

(7) Communication

(8) Others

To create Franchises and Subsidiaries across the globe.

---
No comments yet
---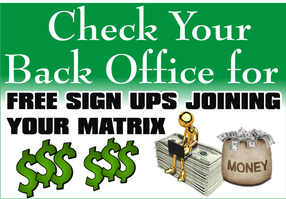 ---
Support
Privacy Policy
Terms of Use
Testimonials