Pick A Subject And Start Your Gig
Hello there, and good morning from northern Nevada.
I'm a little bit off the beaten path today. It does relate to marketing though because, well, everything does. Sales and marketing. It's what I do.
I just came back from the chiropractor's office and he was sharing with me his site, that he's building on the on the side. He's, setting up this site because I was talking to him about flexibility, and joint flexibility, and strengthening your muscles without making them all tight and restricting motion. All these wonderful things that you get from chiropractic.
And he was showing me the site and I'm thinking about it going, "You know, doc, you should be making some money with this." Because he's putting out some very good information that people would definitely pay for. I know, because I'm that interested in it. I'm one of those people that believes that not everything in life is free.
And by the way, that's how we all get paid, right? No matter if you've got a job or a business. And it made me want to point out... see, I deal in marketing systems, and the advertising, and writing copy, and stuff like that. This is the stuff that I'm interested in. What I do in addition to the other stuff that I sell, and it doesn't matter who you are, you may not be a chiropractor. You can have specialized knowledge in an area that you may believe isn't that interesting, but it is.
If you're interested in something enough to study it to the point where you have knowledge about it and you can share that with other people, this is the stuff that you can earn a living from.
I've heard a guy had a hot dog cart. And he had the cart, and he expanded his profits and he got more carts. He had a fleet of hot dog carts and he wrote a book of Instruction. How to do what he did. And now he's making as much money from his books and his trainings as he did from his hot dog cart.
Another guy I heard of was a basketball player. And he was a short white guy like me. He had a tough time with it because he couldn't jump that well. So his idea was to learn how to jump. And he spent all his time and effort to learn how to jump. He did all these different experiments and exercises in order to become better at jumping, so that was his thing.
He started doing videos and writing blog posts and stuff about how to learn to jump better, and he would give demonstrations and see over a period of time how he improved his jump. And now he's making enough money out of that to travel all over the place and hang out with his family all the time.
He doesn't have a job, and you can do the same thing. It doesn't matter what it is that you do. You can offer that information to other people and make a living with it.
I pause this for the dogs. It's one of these things about being around a neighborhood. Usually they're not out barking at me. Anyway... Oh, there's something right there. If you know how to make dogs stop barking, I bet you people would pay for that. I would. I pay for it and give it as a gift to this guy to get his dogs to stop barking at me.
So what I'll do is I'll put a link to the page that the doc has put up just in case you want to check it out. If you're interested in flexibility and strength, especially if you're a little bit older like me. I'm 53 right now.
But I would encourage you, even if you're younger... in your twenties like the doc is actually, and if you put the flexibility training, and the joint loosening stuff to work right now, it'll actually enhance and add to whatever it is you're doing health wise in the gym.
So anyway, think about whatever. Matter of fact, you don't have to know anything about your chosen subject yet. You could just pick a subject that you want to learn more about and then become the expert. Then start putting that information out for other people and earn your living that way.
There's no end to the stuff that people will pay to know. And that's my thought for today. Just in case you didn't know what it is you were going to sell, make something up. That's how people become experts writing books and... You think they know all that stuff and just decided to write a book? No! They do research for months, and then write it.
You could do the same thing and be in business for yourself and never have to go and answer to the man again.
Ready to take the plunge?

Here's your golden ticket out.
That's what I'm thinking about this morning. I hope you're having a great day.
I will talk to you tomorrow. I'm out.
---
---
No comments yet
---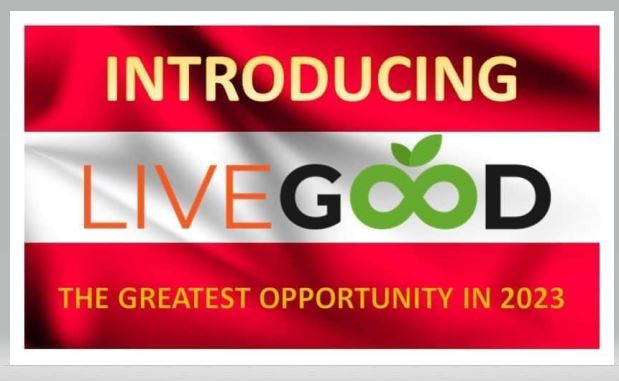 Member Ad
Social Retail Marketer
I have a few spots open to teach this amazing simple approach Working From Phone in Social Retail. Get paid 2xAday with the #1 Forbes Woman-Led Business 50th fastest. Multi-Patented Liquid Collagen.
---
Support
Privacy Policy
Affiliate Terms
Terms of Use
Testimonials