Making Money by selling wholesale! What? How?
I sign up a preferred customer and when they buy a box of SOUL, CORE or a container of FORM I get paid $20 not just for their first purchase BUT for every purchase they make while being a preferred customer!
WOW Just one of the ways to get paid from being a Rain Partner.
Check out my website >>> SEEDS4EVER I would appreciate any comments and love for you all to give it a go!
Helpful Hint: Did you know chronic inflammation is at the root of most diseases. Cardiovascular disease, autoimmune disease, arthritis, bronchial asthma and even pain itself are provoked by Chronic inflammation. Rain's SOUL can reduce the inflammation in your body by 33%. Try Seed nutrition this year!
Pure GMO Free essential parent oils that we all need. No pills and it's all in the SEED.
The American Cancer Association (ACA) recommends a plant-based diet for the prevention of cardiovascular disease and cancer. Seeds are a great source of protein, a necessary nutrient.
Every vitamin, mineral that your body needs. Shake Rip and Sip.
Benefits of the product may include.
Contains three seeds used to target inflammation.
Contains the antioxidant equivalent of 8-10 servings of fruit, 8-10 servings vegetables and 2-3 servings of healthy omega fats.
Natural sustained energy
greater endurance and reduced fatigue
Healthier skin and hair
Supports the immune system
Supports healthy joints
Cardiovascular support
Promotes brain health
Helps to maintain blood sugar already within normal limits and helps maintain cholesterol already within normal limits.
SOUL is WADA compliant as well as Halal, NSF (public Health and Safety Organization) and GMP (good manufacturing practices) certified.
Seed based nutrition starts with SOUL, It is highly nutritious and tasty, made of liquidized seeds of fruits and herbs. You drink it!

A couple of Testimonials:
DEB (AGE 93)
"I WAS BEGINNING TO SLOW DOWN. AFTER A WEEK ON SOUL, I HAVE STARTED GETTING UP EARLIER IN THE MORNING AND DOING MY EXERCISES. I CAN NOW CLEAN MY OWN HOUSE. I FEEL SO MUCH BETTER!"
DENISE
"I USE SOUL FOR JUST ABOUT EVERYTHING. THIS IS THE BEST THING THAT HAS EVER HAPPENED TO US AS FAR AS A HOLISTIC PRODUCT AND A COMPANY THAT'S BUILDING A BUSINESS WITH A HOLISTIC APPROACH. I THINK IT'S SOMETHING THAT'S REALLY MEANT FOR PEOPLE WHO BELIEVE AND TRUST IN A HOLISTIC PROCESS AND CARE ENOUGH TO SHARE THIS."
*These statements have not been evaluated by the Food & Drug Administration. This product is not intended to diagnose, treat, cure or prevent any disease.
Replace your multi Vitamin pills with all natural bio available Seed Based Nutrition! Soul's powerful infusion of seed nutrition refreshes both body and mind. Ask for a sample pack shipment ready.
All the information is right here >>> SEEDS4EVER
---
---
No comments yet
---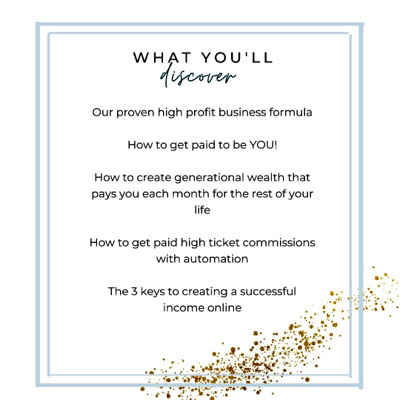 ---
Support
Privacy Policy
Affiliate Terms
Terms of Use
Testimonials