Crowd1 networking (impossible is nothing)
Hi guys any one who want to join me in making money with crowd1 company...
Ok crowd1 work like this you buy a package of ur own choice an this packages they r different we have white package black package gold package and titanium package an this packages have different prices..white package is R1800 black package is R5500 gold package is R15500 and titanium package is R44000.....
So crowd1 is not alone it has 2 companies which are affligo and miggster. This 2 companies they r 1 team with crowd1 company when u play games at ur fone u download app crowd1 is earning an when u play lotto or bet is also earning because this 2 companies are gambling companies..
So remember in crowd1 we have crowd1 reward which we claim every Wednesday this rewards there will be a time where we r going to use them like other's store's rewards and the is new company just joined past weeks which is lifetrends when u sign up with this new company u get whitepackage for free..
Ok then after u have joined crowd1 u start recruiting an they start by giving u a fear of loss bonus...this fear of loss bonus they work like this if u recruit 4 people within 14days that money came back to u with bonus that money u used to buy a package with...
When u work hard u end up earning monthly income an u become a team leader after cordinater a manager a director step by step until u become an ambassador..with crowd1 u end up earning everyday or everyweek because of ur hardworking...we also have an app wre we claim our earnings an reward and we find our update there if there are any changes....
We also have matching bonus were by if u recruit 2 people with the same packages u put on the left an other on the right they give u binary bonus and the more u recruit the more u have more points an every one who is under u when he or she recruit u also earn points this point are going into ur accounthere am look for hardworking people please so that we may build a strong team with crowd1 impossible is nothing....
Am around south Africa in limpopo province...
If u dont understand u r free to ask anything.....
Thank
---
---
No comments yet
---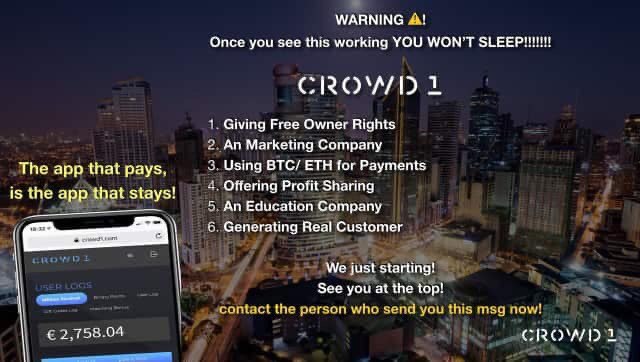 ---
Support
Privacy Policy
Affiliate Terms
Terms of Use
Testimonials