Traffic Zip is a unique site
Traffic Zip is a unique site, not only it's a list builder allowing you to send out emails to random members, but it also helps you build your list with a viral twist. After registration,You can upload your own auto responder:
http://www.trafficzip.com/index.php?r=webmarketer
Whenever you refer someone to Traffic Zip he is first joining your LIST. Now the viral part is that anyone you refer must send 4 subscribers to YOUR LIST before their own form will display: This is a great way to have other people helping you build your list for you.
What about the mailer?:
With Traffic Zip you can send out your emails to random members. As of this post List Hoopla has Traffic Zip ranked as the 3rd highest list builder; So if you are looking for a good place to market Traffic Zip should be one of your top places.

How to make the most out of Traffic Zip?:

Follow These Simple Steps Below:

Step 1: Click on the "Edit My Details" button to upload your photo and to add your Autoresponder code: PLEASE DO THIS 1ST BEFORE YOU REFER ANYONE. Make sure your redirect URL is set to:
http://trafficzip.com/signup.php
So the signup process works flawlessly. If you need help with adding your Autresponder code please watch the video under Tutorials. You can also read Quick Start PDF guide. If you upgraded to Elite, JV Partner, Reseller or Founding Member, you will also go there to edit your "Exit Pop URL" and other details. You can also go there to change your password.

Step 2: Click on the "Setup Ads" button to Get FREE Advertising!

All new members get 1 banner ad with 10K impressions & 1 text ad with 10k impressions !!. In this section is where you'll redeem the promo code: newmember.This is also where you setup your banner ads, text ads and login ads. You can also go there to trade in your credits for free advertising or to buy additional advertising. You can earn credits by clicking on the banner ads and text ads.

Step 3: Click on the "Affiliate Tools" button to grab promotional material including your referral URL. Refer others to earn cash when your referrals upgrade.

Features:

*Solo Ad Clicks: Solo ads a great way to get more traffic. They are fast and can get you a TON of traffic, leads, and sales. Most people will sell unique clicks usually anywhere from .35 to .50 per click. The price of buying a solo ad will depend on a few things. The quality of the list and of course how many unique clicks you'd like to purchase. You might think paying .35 or .50 per click sounds like a lot of money, but these are unique clicks and very high quality.
*Safe-Swaps: Safe Swaps is a great site to help build list and generate new fresh leads. This site is also great for connecting with other like minded internet marketers. You'll also fine people on the forms that will sell very cheap solo ads. The main feature of Safe Swaps is the ability to swap clicks with other marketers. You can also buy solo ads, and you can even sell solo ads if you'd like to other members.

You'll be able to search for people to do swaps with, and once you fine someone you'd like to swap with you just request a swap with them. If they accept they will send your ad out to their list and in return you'll do the same for them. This is great for any size list you might have as they put everyone into their own class based off the size of your list so you'll always swap with people that have the same list size as you do.

*List Builders : Another great way you can get traffic to your Traffic Zip website is list builders. List builders are great for getting quick traffic, and have proven to work time after time. The main way list builders work is the mailing feature. Once you become a member of a list builder you'll be able to send out an email to all the other members of the site. You'll also receive emails from other members of the site as well. Members get rewarded credits for viewing your website. Credits allow members to send out an email. Usually most list builders allow you to send 1 email for every credit you have in your account.
*Mega / Super Solo Ads: How would you like to send your ad out to 50,000+ people? Mega and Super solo ads have been around for awhile now, and these are a great way to get some decent traffic to your website.
1) Email More People - With an upgraded account it's 10x easier for you to mail out to the maximum number of people you can.
2) Earn more credits - As an upgraded member you earn 2-5x more credits then a free member.
3) Make more money - Upgraded members make the most! If a member you refer buys advertising or upgrades you'll earn a bigger commission.
Commission Plan:
At Traffic Zip offer a very profitable affilate opportunity. Refering members is one of the fastest ways you can make the most money with Traffic Zip. Whenever a member makes a purchase you get a commission.
If a member upgrades to a higher level you get a commission.
Free advertising. You earn credits each time you refer a new member.
For more info about Features and Commission Plan:
Account Free Gold $47 Platinium $67 Elite $97 Partner $127
Features A Life A Life A Life A Life
*Commissions 20% 40% 50% 60% 75%
*Email Every 5 Days 3 Days 3 Days 3 Days 3 Days
*Email Members 0 300 500 1000 1500

*Email Extra 500 700 1000 1500 2000
Members
*Signup Credits 0 1000 2000 3000 4000
*Banner Ad Credits 2 5 10 15 20
Per Click
*Email Ad Credits 5 10 15 20 25
Per Click
*Text Link Credits 2 5 10 15 20
Per Click
---
No comments yet
---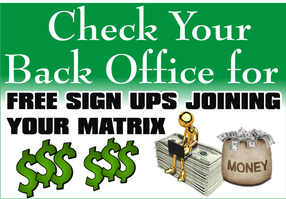 ---
Support
Privacy Policy
Terms of Use
Testimonials