How to Increase Your MLM Team's Sales Volume Quickly
What is the fastest way to increase your MLM team's sales volume? Let me begin by telling you a short story about a frustrated farmer.
The Story of the Frustrated Farmer
There was a farmer is small town Pennsylvania. His name was Eric. He owned 100 dairy cows. He had a goal of producing 3,000 gallons of milk per day with his cows. On average, he could only get 1,000 gallons of milk per day from his cows.
He was frustrated. He went and bought better grain. Then he went out and bought better equipment. He even invested in better quality grass for his cows to graze on during the day. No matter what he tried, he could never increase his cow's daily milk production.
So, what did he do? He went and approached his friend, Tom, a successful dairy farmer. Tom owned a large farm on the other side of town. His cow's produced more than 10,000 gallons of milk per day.
After explaining his situation to Tom, Tom made a suggestion Eric had never thought of himself. Tom said, "if you want more milk, get more cows." You're never going to get more milk from the same 100 cows, so stop trying. You need more cows!
After hearing that, Eric had a light bulb moment! He realized he needed more cows to meet his production goals, rather than trying to squeeze more milk out of his current herd.
How This Pertains to Network Marketing
Most distributors believe that the best thing to do is spend all of their time training and supporting their team. They go into management mode.
They believe you should conduct training sessions, motivate your distributors and give them constant encouragement. While this might have a "small" impact on your business, I think it's much better to go out and sponsor new distributors (get some more cows).
Keep recruiting. That's the fastest way to increase your team's sales volume. New distributors mean new excitement. It also means new orders and new motivation in your team.
Let's face it; most distributors have enough training to produce sufficient sales volume. Where they fall short is their self-motivation. Most distributors simply lack the motivation and discipline to go out and take action. In most cases, it's their fear of failure or fear of rejection that stops them in their tracks.
As long as you spend most of your time working with your current team, you are limiting your chances of success in this industry. That's why I believe it is much wiser to go out and find new people to work with.
You want people who are coachble, hungry and willing to work. I've found that desire trumps knowledge every single time. The industry is filled with people who know WHAT to do, but won't go out and do it.
If your team of 50, 100 or 1,000 distributors is not producing the sales volume you need to meet YOUR goals, do yourself a favor and build a new team. By all means, keep supporting and encouraging your current distributors, but don't spend all of your time with them.
Go out and build a new team. This will automatically increase your team's sales volume. I hope that helps. Leave a comment below and let me know what you think.
About the Author
Chuck Holmes is an author, blogger and network marketer. He lives in sunny Florida. You can learn more about his opportunity here.
---
---
No comments yet
---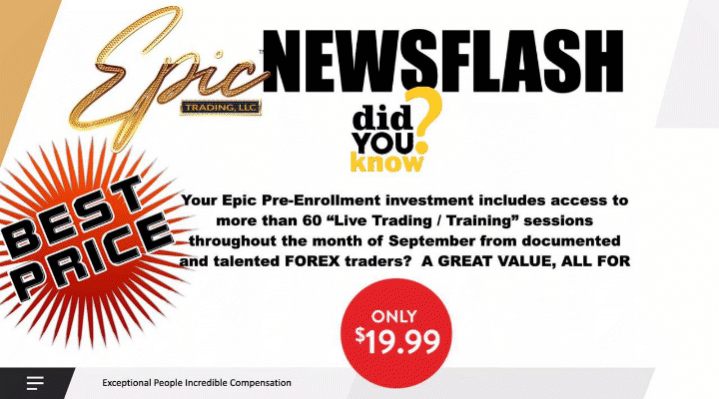 Member Ad
HAS NEVER BEEN DONE BEFORE...
Q. What is the biggest challenge in our industry?A. It's having a clear path to customer and/or new member acquisition!Once you have this figured out, failure is virtually impossible.
---
Support
Privacy Policy
Affiliate Terms
Terms of Use
Testimonials