Several Ideas To Help You Invest More Into Your MLM Business
Today's announcement will not be one to help you learn a new strategy, or a cool trick to getting a signup.
But instead, a topic that is super important that many people totally ignore.
That is, investing money into their MLM business.
Many believe they do not have the money to invest in ads, a higher package in their company, or to purchase online tools.
But I will share with you some ideas that will help you increase the money you have already got, and throw it into your MLM business which can spit out more money.
Online Sales
Ebay and Amazon come to mind when you think of selling stuff around the house.
There are several things in your home you don't use, or don't need to keep.
Why not sell it for extra money to someone who will put it to use?
Also, keep your eye out for things you can sell that you come across.
I've found several things I didn't want or need, but took them anyway to sell online.
Sometimes, I made large sales on items I would of thrown away.
Scrap Metal
Many places in the USA, perhaps even in other countries, have scrap yards.
These places will pay large amounts of money for your junk that couldn't even get sold on Ebay or Amazon.
Believe it or not, I still scrap metal a few times a year.
Aluminum cans are going much higher these days as the economy in America is booming.
This means less people are needing the money from these cans. When less are selling, they pay more per pound.
Find a place to store any metal you find, and haul it to the scrap yard form time to time for a large check.
Unused MLM Products
If you are active in a MLM company, do not try selling the product on Amazon or Ebay. This can get you kicked out.
But, myself like many others, order a lot of product form our company.
Many times, I have left over product unused when my next shipment arrives.
So I have people who buy the CBD oil I have left over, for a discounted price.
I may not be making a profit, but I've already made profit from my company to cover the cost I put in.
So selling it for half price just makes my monthly order half the cost.
Try selling your unused products for a discounted price, because doing this has led to several people joining my team, and helping me get more of my money back.
LeadsLeap & Affiliate Programs
If you want to really make some extra money doing what you already do online, there are 2 programs I believe will help a lot.
First we have LEADSLEAP (click an ad when you visit this link, to see how it pays people)
This program will pay you pocket change everyday you participate, and even more the longer you use it.
By placing their widget on your blog, you turn traffic you already get into money. You can also make more and more pocket change by viewing the ads they display.
There are several ways to get paid on LeadsLeap, as I've made nearly $11 dollars today on it. Plus I earned nearly $12 in one day from visitors on my blog (this past Tuesday)
Try it out, it can help you get a little extra money to push your business across the finish line!
The 2nd program I believe you'll find profitable is MLM Recruit On Demand
This is a one time fee to use, and then you can use it to build your MLM business using the leads they send you.
As you promote it, you generate leads for your business, and you get $15 for every person who purchases it.
From time to time, people upgrade on it and you make an extra $100 per person.
So it's a great way to earn decent commissions, while signing up more people into your MLM business. Use programs like these to wisely build your MLM business.
You Already Have The Money
Saving money on other purchase is huge.
Here are some ideas to keep you from spending your money in wasteful ways, so you can put it into your business:
Dinner? Don't eat out anymore. Eat at home for the lowest amount possible. I eat for under $1 most times.
Movies? Who needs to be spending money on a movie, when you can save that money and time to put into business?
Your product? What is your MLM product? Perhaps you can use it to replace purchasing other items since you have to buy it anyway.
Travel? Don't be going places as much, and save on fuel. Find other ways to get where you need to go or team up and car pool. If you're like me, use a travel app your company supplies to get cash back when you make long trips as well.
Coupons! Use coupons as often as possible ONLY on things you need. It's the same as money.
Coffee? If you have an MLM coffee, there goes that cost and covers autoship.
If you find things you are buying, that you don't need to survive, drop them.
It may be uncomfortable in the beginning. But make no mistake, building a business is uncomfortable!
Side Jobs
Believe it or not, I even do this.
Why?
Because it pays me a lot of money that I can invest into my business.
Find a side job that can bring in extra money in the evening, but allow you to work on your business.
Example:
Delivering pizza brings me up to $200 to $300 a night, and I can prospect on the drive.
4 to 5 hours of working in the evening, with time to prospect up to 10 to 20 people while I am driving.
Find odd jobs that can allow for you to earn extra money, and where you can make calls to prospects while getting paid.
Also, if you can get a side job in a public place, not only brings in extra money to invest in advertising and tools, but also allows you to meet people for prospecting.
The Investments You Make
When you do invest into your MLM, you must be smart with it.
It's better to pay $10 for one lead that will convert into a sale, then $10 for thousands of visitors that generate 1 lead that is broke.
Find programs you may be funding, even if it is $10 a month, and remove them if they are not pulling results.
MLM Gateway pulls results for me, so I am increasing the money I spend here.
Also, find tools that can help cut time out.
I just invested in video software to help rank my videos, and social media software to help my posts get spread around online.
These one time investments are great, and if the tools work decent to fair, I'll invest monthly into them.
So if you have tools that are not pulling in results, try swapping the funds into other programs to test out.
The Overview
So as you see, money is something we must work for, and do things we don't want in order to get it.
But, when we set our minds to it, we can create a lot of it.
Using more ways to earn money, get money back we already spend, and finding ways to save it, we can generate enough to invest into our MLM businesses.
Remember when we invest in our business, we can generate money back when we get results.
---
No comments yet
---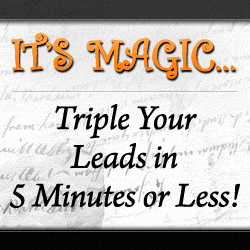 Member Ad
myleadgensecret
For only $1 a day...And a setup fee of $30 that you ONLY pay once, you'll get to mail my high-quality leads.And I'll send 100 of them to you every day.PLUS, I'll give you my custom-built mailing
---
Support
Privacy Policy
Affiliate Terms
Terms of Use
Testimonials