The 10,000 Hour Rule: How it Applies to Your Network Marketing Business
There is a rule I learned about in the book "Outliers." It basically states that it takes 10,000 hours to become an expert at anything. This applies to doctors, accountants, athletes, sales people, network marketers and every other profession.
Think about plumbers and electricians, as an example. They have to go through a rigorous apprentice program before they earn the "title" and can get "licensed."
Lawyers go to college 7 YEARS before they graduate and apply for their license to practice law. Doctors go to school even longer than that.
Even when lawyers, doctors, electricians and plumbers have completed their training, they still have a ton to learn through real world experience. A great lawyer has gone to school 7 years AND practiced law for 10, 20 even 30 or more years. Think about that for a moment.
It takes time to develop the proper skill-set and mindset. It takes time to become an expert at something. It takes time to become world-class at something.
If you are brand new to the network marketing industry, expect to go through a steep learning curve. Realize that there is a unique set of skills you will need to develop over a period of years.
You should also realize that the more time you put into your business the quicker you will mater these skills and the quicker your business will grow.
If you are working your business 20-hours per week, it's going to take you minimum 10 years to become a world-class network marketer. I've been doing this about 16 years now and it took me about 12-years of part-time work to hit the 10,000 hour mark.
The beauty of network marketing is that you can earn while you learn. You don't have to wait 10,000 hours to start making money, but you can't expect to make the big MONEY until you have put in the time.
I highly encourage you to come up with a game-plan for your personal development. Read books, attend events, find a mentor, listen to CDs and do everything you can to improve your skills and mindset. Be a student of your MLM Business. Learn everything you can about your company and the industry.
Take your business seriously. Take your personal development seriously. Your business will only grow as much as you do. Food for thought.
About the Author
Chuck Holmes is an author, blogger and treasure hunter. He lives in sunny Florida. Learn more about his opportunity here.
---
---
---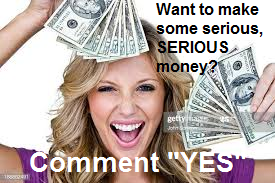 Member Ad
MLM MILLIONAIRE Makes You $
Real MLM Millionaire takes you by the hand and helps you Quit Your Job in 30 days. We make people thousands. Get Your FREE Quit Your Job Blueprint and this MILLIONAIRES Cell Phone Number
---
Support
Privacy Policy
Affiliate Terms
Terms of Use
Testimonials