4 years in, and still breaking records
4 years ago, my wife decided she would start doing AVON, just as a way of bringing in a little extra cash.
Before that, we had our own business with 7 members of staff and offices in town and things were going amazingly. Then in the space of 3 weeks, our business literally crumbled beneath us; I wont go into all the gory details, but somebody from her past launched an all out attack on every aspect of our lives, from death threats to our kids, rats being introduced to our home, dog mess through the door and absolutely disgusting accusations being sent to our clients. It wasn't a nice time for us, and we lost everything we had built up and had to let our 7 staff members down. The police weren't particularly interested, and our life was in ruins. My wife didnt leave the house for 6 months, we sat at home, watched box sets and generally felt sorry for ourselves.
Then a friend asked her if she wanted to try doing AVON, and we decided we would do it as a family. We went out with our two boys (this was a massive achievement for her, and a huge step forward), we delivered brochures to the roads where we live, and a few days later we picked the books back up. This simple process got us new friends around our home, introduced us to some lovely people and - surprisingly for us at the time - we got over £400 in orders, which was £100 profit straight away. The next book came out and we did it again, only this time we got more orders. She was invited to a meeting and when she got there the local manager gave her some prizes and everybody clapped her and congratulated her. She came home beaming with pride and raring to do more.
Her manager came to see her and suggested she try to find other people that she could help in the same way, and she said she would give it a try. She went out for the day and again came back beaming and had found her first team members. At this point, I decided I would give it a try too. As a man doing AVON, I thought all my friends would rip the mick and poke fun at me. Maybe I'm lucky, maybe its normal, but none of my friends took the pee, in fact most of them placed orders with me. There is a big idea that only women can do AVON, but let me tell you - ANYBODY can do AVON, and a little later I will let you know just how well I have done! ;)
So, after our first 12 months - my wife was the only person in the UK to reach Executive leader level in her first 12 months. She was the highest recruiter at her level in the UK, the highest earner and the biggest growth. In the whole country. And all without being able to drive. Needless to say, by this point, I had my wife back :) Her confidence was back, her "go get em" attitude was back and she could hardly remember the shell she had been just 1 year earlier. On top of all this, she had reached Presidents Club, which is the top 7% of all sellers in the country. She got to go up on stage in front of 800 people and be applauded, had music played at full volume for her and had the head of AVON UK give her flowers and certificates. And this was just our first year!
We are now 4 years in to our AVON journey. Since May 2012, we have merged our business so we are now a partnership and we run our retail and recruiting businesses together. Every single year we have won national recognition for our work and for the work our team puts in. We are now one of the top teams in the whole country, and have a team of people who we have trained to succeed. Last year one of our team members went to her first national conference and won Newcomer of the Year and Best New Team. This year we have high hopes to repeat this with another new Team Leader.
So, if you thought about working with AVON in the past, and thought "thats not for me", or "you have to be an amazing sales person" or "only the people who have been doing it years earn well", let me tell you - we prove that all of those statements aren't true. If you have a bit of ambition, and are not afraid to try new things, you will do well. If you join with us, we can show you exactly how to get the best out of this opportunity, and how you can make a full time income with us. If you ever met us, no way in a million years would you think we were in network marketing, and if you did, you would not guess that AVON was who we worked with; you don't need to be a beauty queen, a slick salesman or an internet genius to succeed. You just need to WANT to succeed. We can show you everything else ;) To join AVON as a representative or as an AVON team leader, simply click the link, and fill in the application form. If you are over 18 and resident in the UK, we can have you up and running in no time. In fact, if you have photo ID and access to a camera, we can have you started in the next 30 minutes! I look forward to hearing from you.
---
---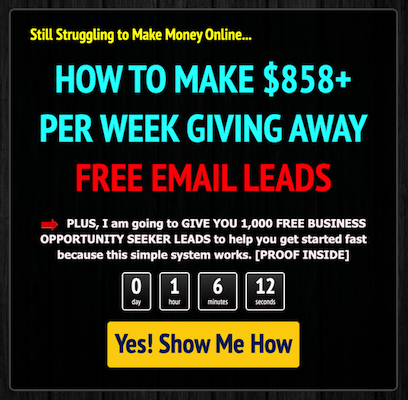 Member Ad
Still Struggling to Make $$$
Step-By-Step Video Case Study: HOW TO MAKE $858+ PER WEEK GIVING AWAY FREE EMAIL LEADS Plus 1,000 Free Leads to Help You Get Started
---
Support
Privacy Policy
Affiliate Terms
Terms of Use
Testimonials