MAKE NEW CONNECTIONS :)))
Hi Everyone,
My name is Debra and I am from the UK. I am a couple of months new to this site and absolutely loving it!
I am a Entrepreneur - self taught in Property, Travel, Coaching, Personal Self Development and I create Online Products and Courses. As such my time is very limited and I would love to connect with all of you around the world and get to know you all better. Let's see what we have in common!
I am currently looking forwards to going to University later this year in Central London to study Psychology for my Coaching business. I help children and young people overcome Abuse and Neglect.
I love trying out new things and gaining new experiences, it's sooo much FUN!!! And, brings lasting memories!!!
My hobbies and interests are quite a few such as cooking, Thai Chi, Thai Boxing, I lurve Salsa dancing - and am taking lessons and learning online :)) showing signs of improvement, Yay!!! I would like to take a pottery class, try clay pigeon shooting - has anyone tried this???
I am single but not looking to date anyone LOL! just so we're clear! Ha Ha,!
What business do you have, are you enjoying it, what's the best thing that you love about it and is it making any money for you right now?
If you already have a business, would you take on another one?
How long have you had your business for? Is this your passion? If not, what is it that your passionate about?
If you don't have a business, what type of business would you do?
Do you have any stumbling blocks? If so, what on? Maybe I can help you out?
Are you in a JOB? Are you happy in it? What do you do?
What country are you from? How long have you been living there for?
Have you set any goals for this year? Like a car, house etc.
Where is your dream destination/s to travel to if money wasn't a problem?!
Looking forwards to hearing from all of you around the world X
Apologies for all the questions, just trying to get to know you :))))))))
Debra
---
---
No comments yet
---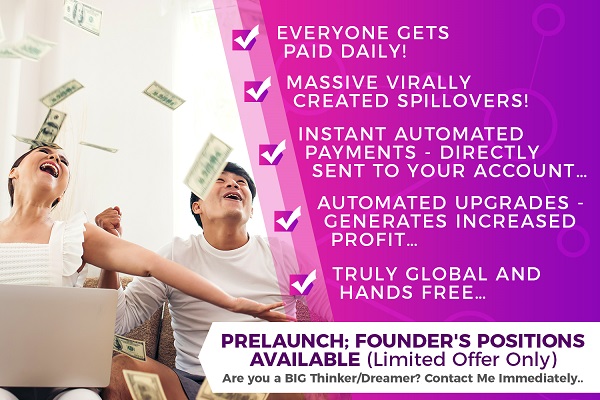 ---
Support
Privacy Policy
Affiliate Terms
Terms of Use
Testimonials