KDK TRADE INCOME SOLUTIONS
<<< DETAILED INFORMATION ON THE KDK TRADE, OPPORTUNITY LAUNCH
KDK Trade recycler and synchronal matrix are two programs conbined into one. Synchronal matrix start up fee is $60 and recycler is $110.
Now to make it all simple, we will give you an advanced loan of $60 to upgrade your account in synchronal matrix when you pay $110, meaning if you pay $110 you will be active in both programs. There is only one link to enter into both programs.
In recycler, we use one payment gateway which is GCR coins, so if you buy GCR coins from our exchangers at 0.10 cent per coin to join, you will get 1 recycler position. You will need 1100 gcr coins from our exchangers to join. When you cycle, we give you 2500 GCR coins. Why do we use GCR coin? Now how will you feel if your $110 turn into $2500?
That is very simple because when the value of the coins hit 1$ in just some few months from now, your coins are now $1 each.
KDK Trade aims to help you get a lot of these coins before the value goes too high for you to buy them. When you cycle we give you 1 free position to earn 2500 GCR coins again. This will continue. Never call your self poor again!
There are three options you can make with regards to your coins.
1. You can sell on our exchanger at the rate of 0.07 cents per coin. So if you sell 2500 GCR coins on our exchange, you will receive $175 per our current rate. (This will increase to $1 soon)
2. You can bring in new members and sell your coins to them at the rate of 0.10 cents per coin. So your 2500 GCR coins can sell two positions out and you will receive $220 plus a left over coins of 300.
(This is far better than trading on our exchanger in terms of profiting)
3. You can keep the coins till the price rises to $1 per coin and trade. This may be the best option because each of your coin will be valued at $1. If you have 2500 GCR coins, that will mean $2500 and so on.
Our $60 program will give you $30,000 every month when you have 1300 members in your team that are earning. These can even be spillover members, but don't wait for spillover; tell people about this great program and get coded bonus, example when you bring 3 people the first two people are coded to your upline, the 3rd person is coded to you. When the 3rd person coded to you brings in their first two people they will be coded to you. This will continue to infinity.
Let's say you have 10,000 people coded to you. Every month when they pay their monthly fee of $60 (which this money is taken from their earning to upgrade them monthly) you get $5 from each of them. That is just wow $$$$$ 10,000 x $5 = $50,000
You can see clearly where the money is. Help some one to earn and you will earn big time. With this two pay plan will you call your self poor again? Lets get interactive on skype, my id is ganyo4u or on whatsapp +233205227177
---
No comments yet
---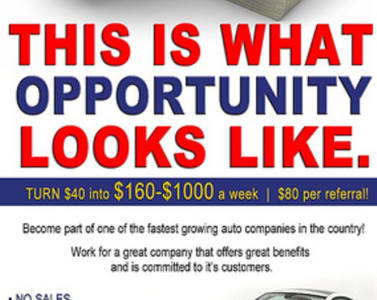 ---
Support
Privacy Policy
Terms of Use
Testimonials