Make Money Save Money Leave that lasting legacy for future generations
Good day everyone
My name is Nick and together with my wife Michelle we have started in the last 4 months two MLM businesses. I would like to talk about Utility Warehouse Discount Club which as the name states looks to save every household money on their utility bills but has other fantastic offers. Would you like to have Free LED light bulbs installed free of charge and forever after never having to replace another light bulb again (av house saving £300-£500), would you like a cash back card that deducts money of your monthly bill just spending money at shops you would normally visit (av household saving £400), do you eat out once a month if so would you like a free gourmet society card worth £65 which gives you discounts of up to 60% at hundreds of restaurants (av saving £500), total savings of over £1000 without even looking at your bills? If you are interested please let me know and I can give you a no obligation quote.
Utility warehouse also makes people money, i am looking for like minded individuals to join me in this growing business doing exactly what I am doing. For a low cost and low risk you could own your own business which includes mentoring and coaching, two free websites, free training for life, which can be taken time and time again, you can join with your partner for no extra cost and they receive the free training, all expenses holidays, weekend breaks and receive a mini. What really impressed me about this business was the fact it leaves a paid legacy for not only this generation but future generations which was so important and allows me to build my pension pot and not rely on anybody else. If you are looking to build your business then they are many Business presentation evenings which again are free to attend and you can take potential business owners.
I really cannot think of any negative points about Utility warehouse, you work the hours you want when you want, all bonuses which have been promised for achieving targets have been paid and I am looking forward to retire before I am 55 with a residual income to follow. if you would like to join or find out more please take a look at our website http://www.utilitywarehouse.org.uk/N45188/opportunity
Many thanks for taking time to read this, Nick
---
No comments yet
---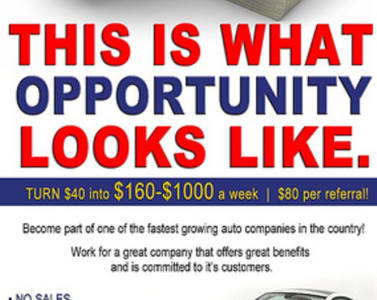 Member Ad
FTC Compliant - 100% Success
Everyone is making money. No recruiting required. I can even set it up for you and you can watch it take off...100% Automated. I first saw it in August checked it out-ownership and business practices.
---
Support
Privacy Policy
Terms of Use
Testimonials