Have YOU tried the 8 Week THRIVE Experience by Le-Vel?
This simple, fast and effective 1-2-3 health system is the fastest growing health and wellness movement in North America and has recently been introduced to the U.K. and Australia. This premium grade nutritional system is so easy to use but makes such a difference in you energy levels and your life. The process is simple. Start with two capsules specially formulated for both men and women. Twenty minutes later have a delicious and nutritious shake and put on your DFT nutritional patch, and you're done. This innovative line of products fills in your nutritional gaps and provides the following benefits:
Mental Clarity
More Energy
Calms General Discomfort
Supports Healthy Joints
Immune System Support
Better Weight Management
And so much more Check out the website here: https://gilliand.le-vel.com/
If you haven't had the success you desire in Network Marketing in the past, it's not your fault. The right company with the right products, training, and team support and a little hard work on your part, and you can live the dream too! We all know that timing is important in Network Marketing and the timing couldn't be better with Le-Vel Thrive. The company is less than five years old and is growing like wildfire. The products are excellent and the business opportunity has barely come into its own. If you just want to be a customer, that's great, get two friends that want to be customers as well and you get your products for free. Encourage them to get two more friends to join them in the Thrive experience, and guess what - they get their product for free too! But let's face it, if your on this site you want to be a promoter and being a promoter has many benefits. Not only can you get your products for free, there are no sign-up costs, just the price of the products you purchase anyway. Then all you have to do is get two qualified customers and two promoters and you are already at the VIP 800 level. Get two more of each and you're at the VIP 1600 level, both come with great bonuses and let's not forget the other bonuses you can achieve, the iPad and car bonuses are just two and then there are the trips. But the best part of this company is its spirit and team focus. At Le-Vel it's all about you, the promoter. The founders of the company are old-time Direct Sales professionals so they know the business and they value their team.
Now that I've told you about the company, it's only fair that I tell you a little about me. I have been in sales and marketing for over twenty years and have trained and supported teams over that entire expanse of time. I understand your struggles and frustrations, I've been there myself. I started dabbling in Network Marketing over ten years ago and it took me a long time to figure out how to make this kind of opportunity work. Strange for someone who has spent their entire working life in sales and marketing, but there you go, this business is different and it takes a different set of skills. I have honed those skills and have spent time learning how to teach others these same unique skills. I have just recently joined this specific opportunity for two very good reasons.
Le-Vel has a great product line and I have experienced first-hand the benefits of using those products.
The timing in this company is spot on - You want to get in at the early stages of a company and this company is just starting to take off, its trajectory is set to skyrocket in the next few years
So here is my pitch and my promise. I'm building a team and I would like you to be a part of it. I will give you the support and training that you need and introduce you to an amazing team of people who are passionate about what they are doing and are willing to share everything they know with you so that we can build this business together. I will teach you the five most important things you need to do each day to grow your business and share with you all the best tools and resources that I know of to make it as easy as possible. I have just started my Facebook page so it's a little barren but I would be delighted if you would check it out here: https://www.facebook.com/profile.php?id=100011646042737 Over time you can watch this team grow and enjoy some inspiration and free training along the way. So join me and let's blast off together on the Thrive train, you won't regret it!
---
No comments yet
---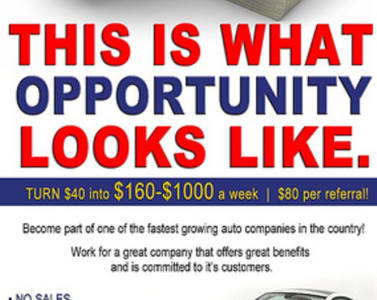 Member Ad
Get Bitcoin To Make Friends
Start getting paid Bitcoin to make friends. You can make money by doing the same thing you already do on Facebook. It's worldwide and open to everyone. So start right now and secure your future!
---
Support
Privacy Policy
Terms of Use
Testimonials