How to Make Money Fast Selling Any Product, Service or Opportunity!
For starters, yes this includes your primary network marketing opportunity.
So now that has got your attention, let's dive into the actual good stuff...
You might've been promoting your products or business opportunity for some time, but might not have been getting the results you've wanted.
You do things almost on a consistent basis like regular posting, reaching out to people and spreading the message.
Yet there's not a whole lot of response to any of your efforts.
It's like casting a fishing hook in a pond where you clearly see a bunch of fish just swimming around.
But instead of them acting curious and grabbing for it, they just casually pass it by.
Trust me I get it. It can be sooooooooooo frustrating when you just want to see any progress in your marketing.
But instead it's another day of crickets and tumbleweeds.
So what's the issue?
Let's just say that you might've been putting in the effort, but just in the wrong things.
What do I mean by that?
Tell me if you've been told this before:
Make a list of 25-100 of your closest friends and family members.
Start cold conversations with people in Facebook messenger.
Post daily about your products and your business opportunity.
Bug the living daylights out of the people on your list until they either begrudgingly say yes or completely block you.
Don't worry, I already know. Because everyone has been told at least one of these things if not more than one.
So let's just fly past why that stuff is more suitable for ripping your hair out and less so for actually building the business and your bank account.
And let's just get to the better stuff while keeping all of your hair on your skull. Sound fair?
So some major things that the big time earners are doing to make a killing in their business are...
-Making quick and irresistible offers that their prospects can't refuse.
-Addressing the biggest issues their audience is having.
-Add huge value for their audience to consume.
-Position themselves as authorities in the space.
This is quite literally the opposite that most network marketers have been taught and are doing in the space to push their products.
And you wonder why it can be so difficult as to getting people to but your stuff.
It's not you. It's the crumby playbook they had you read from.
So do me a favor and throw that old and worn out prospecting playbook into the nearest landfill and start absorbing the best information from the highest paid affiliate marketers in the space.
And you can do that by clicking here to get a sneak peek at the 8-week Affiliate Marketing Bootcamp.
So you saw what the top marketers are doing in terms of creating simple. irresistible offers, providing tons of value and being an authority in the space.
And you might be thinking to yourself "how can I also do that for myself?"
This is exactly what these top earners are going to teach you.
These 8 top earners are going to show you the exact daily income producing roadmap that they've personally implemented that has allowed them to earn over 6-figures in their online businesses.
Okay I sort of lied because one of them is actually a 7-figure earner ;)
They're also going to show you the exact system and 'done for you solutions' that they use everyday to get people rushing over to their offers on the daily.
But before I go, let me just give you a little bit of a hint about the impact you're going to get from attending this actual bootcamp...
About 97% of networkers struggle to make even $100 a month in their business (that's not a joke)
Because they've been conditioned from the start to do many of the things that do the opposite of making them money.
The people making the big bucks are the ones in the top 1% or less.
And they're about to take you through 8-weeks of the strategies they use and the roadmap they made to land them in the black.
How much better off would you be if you were one of the few to take in everything the less than 1% are willing to share with you?
And what if the worst case scenario was you being catapulted from the bottom 97% that still struggle to make a quick buck, to the top 10% who understand what it takes to make some real money in the space?
Well that decision is up to you. So if you're ready to make that change, be sure to click here to check out the Exclusive 8-week Affiliate Marketing Bootcamp hosted by the industry's top earners and business builders.
---
No comments yet
---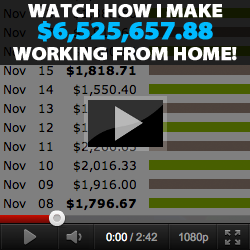 Member Ad
MLM Leads That Convert!
I've never had such an amazing response! Of 50 leads that I bought, I signed up 7! These mlm leads are working for me…
---
Support
Privacy Policy
Affiliate Terms
Terms of Use
Testimonials