Make Only One EASY Sale And Get Paid For It Over & Over Again!
Hello,
This is a rather long business announcement. If you want to, you can skip down to the bottom of it first and click on the link to watch the exciting 6 minute video, then come back and read the rest of it.
I am glad that heading line caught your attention enough so that you to want to see what I have to say here. Stay with me long enough to read the rest of this and I will show you a real easy way to earn an extra $100 (and more) every single day. First I want to talk about the economic crisis here in the United States. (And around the world. However, there is not much I can do for people who live in other parts of the world because this opportunity is only available in the United States). Then I want to talk a little bit about Network Marketing (MLM) in general and point out some of the things I have learned along the way.
The Economic Crisis In America
I watched a documentary about this recently on PBS and although I already knew that we were in trouble, I was shocked to see how bad it really is. To give you an example of that, they talked about a survey they did with upper middle class professionals. They asked this question: If a situation came up where you needed to come up with $400 within the next 24 hours, could you do it? And 43% of those people said NO, they could not even come up with $400 unless they sold something to do it. I won't get into a lot more detail about that here except to say that they also talked about the fact that the upper middle class is living Paycheck to Paycheck! And I will add to that.... like just about everybody else in this country!
Network Marketing (MLM)
Is that the best way to earn extra money and build up a retirement nest egg? Maybe. Maybe not. We know that many people steer away from it because it has such a bad reputation. That is the first obstacle you have to overcome if you get involved in the business. I was involved with one Network Marketing company or another for more than 25 years before I finally gave up on it. Along the way I had downlines of more than 10,000 people in not one, but two different MLM companies and things were looking good. But, unforseen things do happen in the world of MLM. In both cases, the company changed the compensation plan, and and cut me right out of the money. Today I do not have any money at all coming in for all the time and money I put into promoting those two companies. Not to mention all the others along the way.
Some people do make money in MLM. And some people make a whole lot of it. I was not one of those people. And I am not alone in that respect. I read somewhere recently that about 95% of all people who get involved with MLM, never make any money and about 5% of them earn the big paychecks. That's how the economy works too. The 5% at the top of the pyramid own just about everything.
My Economic Situation And The Future
I am very fortunate in that I have enough money coming in to take care of myself for the rest of my life. (Unless something unexpected turns up). I own my own home. I own two cars. My health insurance is paid up for life and I don't have any dependents to take care of. In fact, I have the time freedom that most people only dream about. I can do just about whatever I choose to do with my time. Still, I have not been content since I dropped out. Over the years, I have often thought about starting my own company. But, never really had the money to do that until recently when I inherited a few thousand dollars from my dad's estate. I decided to use that money to start my own company. One with a compensation plan that would work for anyone. Quick Little Survey is that company. We call it the place where dreams come true.
How Do You Make Money With Quick Little Survey?
Since we only have one product, that makes it a whole lot easier for you because you don't have learn all the product descriptions and selling points for a whole line of products. Our product, a Self Employment Training Program sells for a one time cost of only $150 and we pay out a $100 commission for each sale. However, that is just the beginning. It gets better. A whole lot better! The one really good selling point with Quick Little Survey that you need to remember is that with our powerful pass 1 up to your sponsor compensation plan, you can get paid over and over again from only one sale!
Really? How Does That Work?
First, notice that I did not say Network Marketing Company in that paragraph above where I talked about starting my own company. I just said my own company. I like to make a distinction between traditional MLM and what we do. Some people might question that. It is a matter of opinion I guess. We do get paid for the sales that are made by other people. The big difference is that we do not have to jump through any of those MLM hoops to do that. All we have to do is make that 1st qualifying sale. After that, you are qualified for life and if you make only one more sale, that new member will pass one new member and the commission for that sale up to YOU. And that one new member just passed up to you will pass 1 up to YOU, and that new member just passed up to you will pass 1 up to YOU. And it just keeps on growing and growing. There is no limit to how many people and commissions can be passed up to YOU from that one sale!
How Much Money Do You Want To Make?
Just like with any Network Marketing Company, the more people you talk to about this, the more money you are going to make. Is is as simple as that. Except that with Quick Little Survey there is no matrix to fill. No binary pay plan to balance. No profit sharing schemes. No monthly product purchase requirements. No inventory to buy and stock. No complicated pay plan, And none of the other road blocks and hurtles you have to get around or jump over to make money in Network Marketing.
This is simple and easy to understand since we only have one pay level. That includes the people you personally sponsor and those who are passed up to you. What if you sponsor 5 people, and each one of them pass one up to you, and then each one of those 5 who were just passed up to you pass one up to you, and then each one of those 5 who were just passed up to you pass one up to you ... and so on ... through infinity? What if you sponsor 10 people. Or 20 or 30? The answer to that question is that you are going to have a whole lot of those $100 commission checks coming in to you on a regular basis!
How Do You Find People To Sign Up Under You?
If you have any experience at all in Network Marketing, you know that is the #1 problem in the industry! That is the question that every company is asking. And every MLM affiliate, associate, distributor or whatever they call them in any one particular company is asking. Not to worry though, because the internet is full of so called MLM leaders and trainers who will tell you they have solved that problem and will gladly provide you with the solution to that problem ... for a price. There are a lot of people in the MLM industry who make a whole lot of money selling people things that do not work ... for most people.
So, you can pay someone for their "how to do it" prospecting and recruiting system and take your chances with that, and in my opinion, waste your time and your money. Or you can do it the old fashioned way. Do a quick little survey with your friends and neighbors and/or other people you know or come in contact with and invite them to visit our website and watch that exciting little 6 minute video. Word of mouth advertising is still the best advertising in the world and it won't cost you one read cent!
If you like this, then the chances are that other people will like it too. You just have to tell them about it. I read somewhere recently where one MLM leader said that just about anyone can sponsor at least one new member for just about any Network Marketing company for every 20 people you talk to. However, that same leader also said that you have to be doing that constantly to keep it going because there are so many people that drop out along the way. We don't have that problem st Quick Little Survey because this in a ONE TIME PAY compensation plan. So, if you want to earn some of those $100 commission checks, start talking to people and invite them to visit the website and watch that video. We have developed a quick little survey that you can use as a guide to help you do that. You can use your own words and inject your own personality into it, but what you want to say will go something like this:
Quick Little Survey
Hey Joe, I found what looks like it might be a good way to make some extra money. Perhaps even a whole lot of it if people like what they see in the introduction video. It sure caught my attention! I am going to tell everyone I know about this and invite them to watch it. What about you Joe, would you be interested in a real good way to earn some extra money? And if Joe says yes, say something like: I have a short 6 minute video that will tell you all about that. Give me your email address and I will send you a link that you can click on to watch the video. If Joe says something like "Is that one of those MLM pyramid schemes" , say no Joe. This is not MLM. I know that don't work. This is something that does work. And anyone can do it. I want you to watch a short 4 minute video that will tell you all about it. Give me your email address and I will send you a link that you can click on to watch the video.
Don Evans
Quick Little Survey
http://www.quicklittlesurvey.com/QLSp000/id/index.php?ref=hbndon
---
---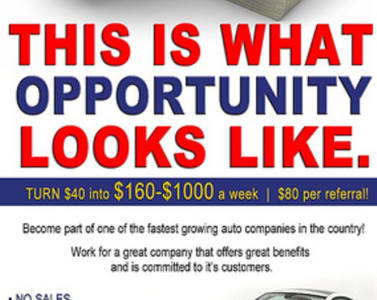 Member Ad
Promote 5 Links on 1 Site
Stop Wasting Your Time! You can promote 5 of your favorite affiliate programs with only ONE SITE! Plus sign ups in 25 of the most lucrative programs on the Internet!
---
Support
Privacy Policy
Terms of Use
Testimonials