Network Marketer? You Need Gorilla Marketing Pro!

Hello Everyone, let me explain why I feel so strongly that if you're a network marketer, you need Gorilla Marketing Pro. I found this system a few months ago and it has been a great boost in enrolling prospects into my high ticket primary business. If Gorilla Marketing Pro can help me enroll prospects in my business that starts with an entry fee of $500, I'm pretty sure it can help network marketers enroll prospects with a far less entry fee than my opportunity.
Ever hear of a man name Samuel Brannan? If not, he was the state of California's FIRST millionaire. He became a millionaire during the Gold Rush of 1849. Mr. Brannan gained his fortune NOT by panning for gold though. While observing people called "settlers", come into one of his general stores and pay for their items with gold he got an idea. Brannan went out and bought up all the mining supplies he could find. Since his store was the only one in the area, he soon had a monopoly on all the tools (pans, shovels, picks) to search for gold.
Mr. Brannan then got the idea to run through the streets of his town holding up gold dust in his hands yelling, "Gold! Gold on the American River!" That marketing ploy caused people to buy up the tools in his store to hunt for gold. He paid 20 cents each for the pans, then sold them for $15 a piece. In his first 9 months he made $36,000 dollars which was more than most people (prospectors) ever struck in their search for gold. And by 1849 it was said that he was making over $150,000 a month!
The lesson here? Samuel Brannan was smart enough to know the way to get rich was by selling the PICKS and SHOVELS to people who are trying to get rich!
So what does that have to do with why you should have Gorilla Marketing Pro as part of your marketing arsenal?
Well you could look at your business opportunity as the "GOLD" and Gorilla Markting Pro as the "PICKS and SHOVELS."
Look what tools you have available:
Pre-built landing pages that are high converting, unlimited team building with mass team communicator, exclusive parallel marketing technology, monetized tools and traffic system, Facebook wall posting system with pre-built high converting banners, pre-made professional graphic banners of all sizes, tracking and analytics system to track every visitor, over 100 FREE advertising sources and secrets, and over 100,000 opportunity seeking leads, plus weekly LIVE training webinars by (2) million dollar earners.
All of this would normally cost you over $300 per month!
But, for a limited time, you can get all of that and more in the Gorilla Marketing Pro system absolutely FREE for LIFE!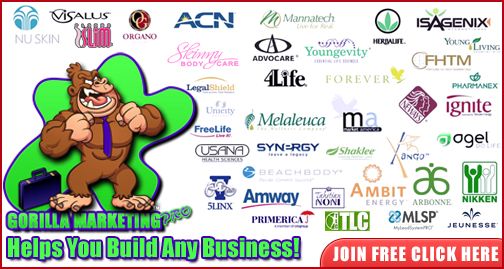 ---
---
Member Ad
Create Residual Income
Would you like to create ongoing residual income from home working with the largest manufacturer of ecofriendly everyday household essentials. If you would like more information just message me today!
Member Ad
Grow downline super fast!
Who wants to grow their downline extremely fast. Click the link to find out how to make your business automated.
---
Support
Privacy Policy
Affiliate Terms
Terms of Use
Testimonials